---
URBAN ONE HEALTH: Urban Environmental Stressors as Determinants of Health and Resilience
Wayne State University, Detroit, MI
Virtual Symposium
December 2nd and 3rd, 2021
---
RECORDED SESSIONS CAN BE VIEWED HERE
Intended Audience:
Academic Researchers, Educators, Public Health Practitioners, Urban Planners, Students and Trainees, Medical, Environmental Law, Engineering Professionals, Government Agencies, Community Organizations and Members of the Urban Community, Infectious Disease Experts, Social Scientists,Veterinary Health Professionals, Communicators
What is Urban One Health? The Centers for Disease Control and Prevention (CDC) defines "One Health" as a "collaborative, multisectoral, and transdisciplinary approach working at the local, regional, national and global levels with the goal of achieving optimal health outcomes recognizing the interconnection between people, animals, plants and their shared environment."  Detroit and our sister cities across the world face unprecedented challenges related to local, regional and global environmental pressures. "One Health" urban environmental solutions are now required if we are ever to discover the roads that lead to environmental health and ecosystem resilience for all of us.
Keynote Speaker Bios: 
Colin Basler, DVM, MPH, DACVPM: Dr. Colin Basler is the Deputy Director of the CDC's One Health Office and the CDC One Health Liaison to the World Organisation for Animal Health (OIE). The One Health Office is the agency's lead for One Health activities domestically and globally. Established in 2009, it is the first formal office dedicated to One Health established in a US federal agency. Dr. Basler has a Doctor of Veterinary Medicine and a Masters of Public from Tufts University. Before joining the One Health Office, Dr. Basler trained as a CDC Epidemic Intelligence Service (EIS) officer and later worked as a veterinary epidemiologist investigating  foodborne and zoonotic disease outbreaks with the Outbreak Response and Prevention Branch (ORPB) within the Division of Foodborne, Waterborne, and Environmental Diseases (DFWED). He is also a diplomate of the American College of Veterinary Preventive Medicine.
Peter S. Fiske, PhD: Dr. Peter S. Fiske is the Director of the National Alliance for Water Innovation (NAWI) and Water-Energy Resilience Research Institute (WERRI) at Lawrence Berkeley National Laboratory. NAWI is the U.S. Dept of Energy's 5-year, $110M investment in desalination research and development and has the goal of enabling cost-effective desalination and water reuse for a much wider range of non-traditional water sources across the U.S. Fiske was the Chief Executive Officer of PAX Water Technologies, Inc. from 2008 until 2017,where he pioneered the use of biomimicry to develop innovative and energy efficient technologies to improve drinking water quality and reliability in municipal water systems. He is a founding faculty member of the Department of Energy's I-Corps Program. Dr. Fiske is the author of Put Your Science to WORK!, numerous articles for the American Association for the Advancement of Science's career website ScienceCareers.org, and presently writes an occasional column in the journal Nature.
---
SYMPOSIUM AGENDA
ALL TIMES LISTED ARE IN EASTERN TIME ZONE
THURSDAY DECEMBER 2, 2021          11:30 AM 4:30 PM ET
11:30-11:40 AM

President M. Roy Wilson, MD, MS

President, Wayne State University

Welcome and Introduction

11:40-11:55 PM

Carol J. Miller, PhD, PE

Professor, Civil and Environmental Engineering,

Director of Healthy Urban Waters (HUW)

&

Melissa Runge- Morris, MD

Director of the Institute of Environmental Health Sciences, Director of the Center for Urban Responses to Environmental Stressors (CURES)

Introduction and Overview from Symposium Co-Chairs

KEYNOTE SPEAKER

12:00 PM

 

Colin Basler, DVM, MPH, DACVPM

Deputy Director, One Health Office 

Centers for Disease Control and Prevention

One Health: How Collaboration can Effectively Address Shared Health Threats

SESSION 1: Zoonotic Diseases, Surveillance, Prevention

Moderators: Paul Kilgore, MD, MPH & Jeffrey Ram, PhD

12:45- 1:15 PM

Emily Dinh, PhD, MSPH

Medical Entomologist, Michigan Department

of Health and Human Services

Michigan Emerging and Zoonotic Disease Surveillance, 2020

1:20- 1:50 PM

Jorge Hidalgo, MD, MACP, MCCM, FCCP

President-Elect, World Federation of Intensive and Critical Care

Professor of Critical Care and Head of the Division of Critical Care, Karl Heusner Memorial Hospital, Belize City, Belize

The Sudden Appearance of SARS-CoV-2 from Zoonotic Reservoirs

Break

SESSION 2: The Built Environment and One Health

Moderator: Carol J. Miller, PhD, PE

2:05- 2:30 PM

Shawn McElmurry, PhD, PE

Professor, Civil and Environmental Engineering,

Wayne State University, Detroit, MI

Winter Storm Uri: How Non-Resilient Infrastructure Threatens Public Health

2:30- 2:55 PM

Elaine Faustman, PhD

 Professor, Environmental & Occupational Health Sciences; Director of the  Institute for Risk Analysis and Risk Communication (IRARC),University of Washington; Seattle, WA

 Embracing Metagenomic Approaches for Surveillance and Monitoring Using an Urban One Health Platform

2:55- 3:20 PM

Jorge A. Trejo, PhD

Marine Biology, Corozal College

Corozal Town, Belize

Consultancy to Ministry of Agriculture, Fisheries, Forestry, the Environment, Sustainable Development and Immigration (MAFFESDI)

Perspectives on the Development and Environmental Challenges in Belize:  Trends, Practices and Future Outlook

Break

Early-Stage Investigator Flash Talks

Moderator: Michael Petriello, PhD

3:35- 4:15 PM

Flash Talks from Early-Stage Investigators

These talks are 5 minutes in length and are geared to communicating their science to a broad interdisciplinary audience on a variety of One Health-relevant topics.

Lucas Debarba, Ph.D.: VOC-induced Neuroinflammation and Metabolic Disease
Cynthia Gutierrez-Navarro: The Characterization of Ecological Processes that Stabilize Pathogenic Microbial Communities in Green Stormwater Infrastructure
Grace Swanson, Ph.D.: Phthalate Exposure on Sperm RNAs and Microbiome Impact the Paternal Specific Factors Contributed at Fertilization
Breanna A. Borg, MPH: Science Policy Network-Detroit (Scipol-Detroit) Action Groups: A Collaborative Initiative Acting Against Environmental Hazards in Detroit
Sarah S. Comstock, Ph.D.: Relevance of One Health for Pregnancy and Birth Cohorts
Víctor D. Carmona-Galindo, Ph.D.: A Maximum Entropy Approach for Mapping the Potential Distribution of the Parasite Trypanosoma Cruzi DTU TcI Using the Vector-ecology of Infected Triatoma Dimidiata in El Salvador

4:15- 4:30 PM

Questions for ESIs; Wrap Up and Reflection on Day 1

ADJOURN DAY 1
FRIDAY DECEMBER 3, 2021      11:30 AM 4:45 PM ET
11:30 - 11:40 AM

Stephen M. Lanier, PhD

 Vice President for Research, Wayne State University

Welcome and Opening Remarks

KEYNOTE SPEAKER

11:45 AM

Peter S. Fiske, PhD

Executive Director of the National Alliance for Water Innovation (NAWI),

Director of the Water-Energy Resilience Research Institute (WERRI),

Lawrence Berkeley National Laboratory

Urban Innovations for Water Security, Public Health and Community Happiness

SESSION 3: Community-Based Urban Health

Moderator: Christopher Trentacosta, PhD

12:30- 1:05 PM

Jennifer Carrera, PhD, Assistant Professor, Sociology, Environmental Science and Policy,

Kent Key, PhD, MPH, Academic Outreach Specialist, Division of Public Health

Michigan State University, East Lansing, MI

 Cynthia Watkins, Director, Wells Ministries, Community Advocate & Flint, MI Resident

Advancing a Community Driven Research Model for Environmental Justice

1:05- 1:40 PM

Natalie Sampson, PhD

Associate Professor, Public Health, Director of the Environmental Health Research-to-Action (EHRA) Youth Academy

Malak Elayyan & Horacio Garcia, EHRA Fellows

 University of Michigan- Dearborn, MI

Building Youth Capacity for Moving Environmental Health Research to Action in Metro Detroit

Break

SESSION 4: Concurrent Sessions

Moderators: Melissa Runge-Morris, MD & Carol J. Miller, PhD, PE

Sessions focused on the topics of One Health Initiative Pilot Projects

1:55- 2:25 PM

 Flooding in the Jefferson-Chalmers Neighborhood: Does Green Infrastructure Decrease Mold Infestation?

Judy Westrick, PhD

Applying the One Health Approach to Identifying Community Risk Factors for Antibiotic Resistance in Southeastern Michigan

Yifan Zhang, PhD

 ddLAMP Platform Development for Sensitive Detection of Vector-borne Disease Organisms

Jeffrey Ram, PhD

Break

SESSION 5: One Toxicology

Moderator: Christopher Kassotis, PhD

2:40- 3:10 PM

Ed Kolodziej, PhD

Associate Professor, Civil & Environmental Engineering,

 University of Washington, Seattle, WA

Water Quality Impacts of Roadway Runoff on Coho Salmon

3:10- 3:40 PM

Tamara Tal, PhD

Helmholtz Centre for Environmental Research,

Bioanalytical Ecotoxicology Department, Leipzig, Germany

Rapid Gene Editing in Zebrafish to Understand How PFAS Exposure Causes Hyperactivity

Break

SESSION 6: Scientific, Community, and Policy Panel

Moderator: Nick Schroeck, JD

3:50 PM- 4:35 PM

Panel Discussion: Developing Law and Policy to Achieve Optimal Health Outcomes Between People, Animals, Plants in Our Interconnected Environment

Stephanie Chang, MPP, MSW, Michigan Senate, 1st District

Kyle Whyte, PhD, George Willis Pack Professor of Environment and Sustainability, University of Michigan

Andrew Bashi, JD, Attorney, Great Lakes Environmental Law Center

4:35- 4:45 PM

Closing Remarks and Flash Talk Awards

ADJOURN SYMPOSIUM
---
Early Stage Investigator E-Posters
Meaning of the promotion of children's environmental health for nursing professionals in Colombia
By: Doriam Esperanza Camacho-Rodríguez & Ani Evies-Ojeda, Nursing Faculty, Cooperative University of Colombia
Developing Novel Phytoscreening Methods: Detecting Carcinogenic Environmental Chemical Contaminants Using Insect-Induced Plant Galls
By: Sarah M. Black, Connor Socrates, Mike Sergeant, Shirley Papuga and Glen Hood
Department of Biological Sciences and Department of Environmental Science & Geology
Wayne State University, Detroit, MI
Chronic exposure to per- and polyfluoroalkyl substances (PFAS) increases intracellular cholesterol accumulation and TGF-β activation in Huh7 cells
By: Zheyun Peng1, Michael Petriello2,3, Wanqing Liu1,2
1Department of Pharmaceutical Sciences, Eugene Applebaum College of Pharmacy and Health Sciences; 2Department of Pharmacology, School of Medicine; 3Institute of Environmental Health Sciences; Wayne State University, Detroit, MI
Air Pollution, Mental Health, and Effects on the Brain: A Systematic Review Across the Lifespan
By: Clara G. Zundel1, Daed Daher1,2, Cole Brokamp3,4, Patrick H. Ryan3,4,
Yaoxian Huang5, Jeffrey R. Strawn3,4, & Hilary A. Marusak1,6,7
1Psychiatry and Behavioral Neurosciences, Wayne State University, Detroit, MI; 2Environmental Science and Geology, Wayne State University, Detroit, MI; 3Cincinnati Children's Hospital Medical Center, Cincinnati, OH; 4Department of Pediatrics, University of Cincinnati, Cincinnati, OH; 5Civil and Environmental Engineering, Wayne State University, Detroit, MI; 6Merrill Palmer Skillman Institute for Child and Family Development, Wayne State University, Detroit, MI; 7Translational Neuroscience Program, Wayne State University, Detroit, MI
 Oceans, Fish, and Humans - A One Health Research Story That Illuminates the Need for Transdisciplinary Integration
By: Timothy H. Ciesielski  Sc.D.  M.D.  M.P.H., Mary Ann Swetland Center for Environmental Health Department of Population and Quantitative Health Sciences at Case Western Reserve University School of Medicine, Cleveland, OH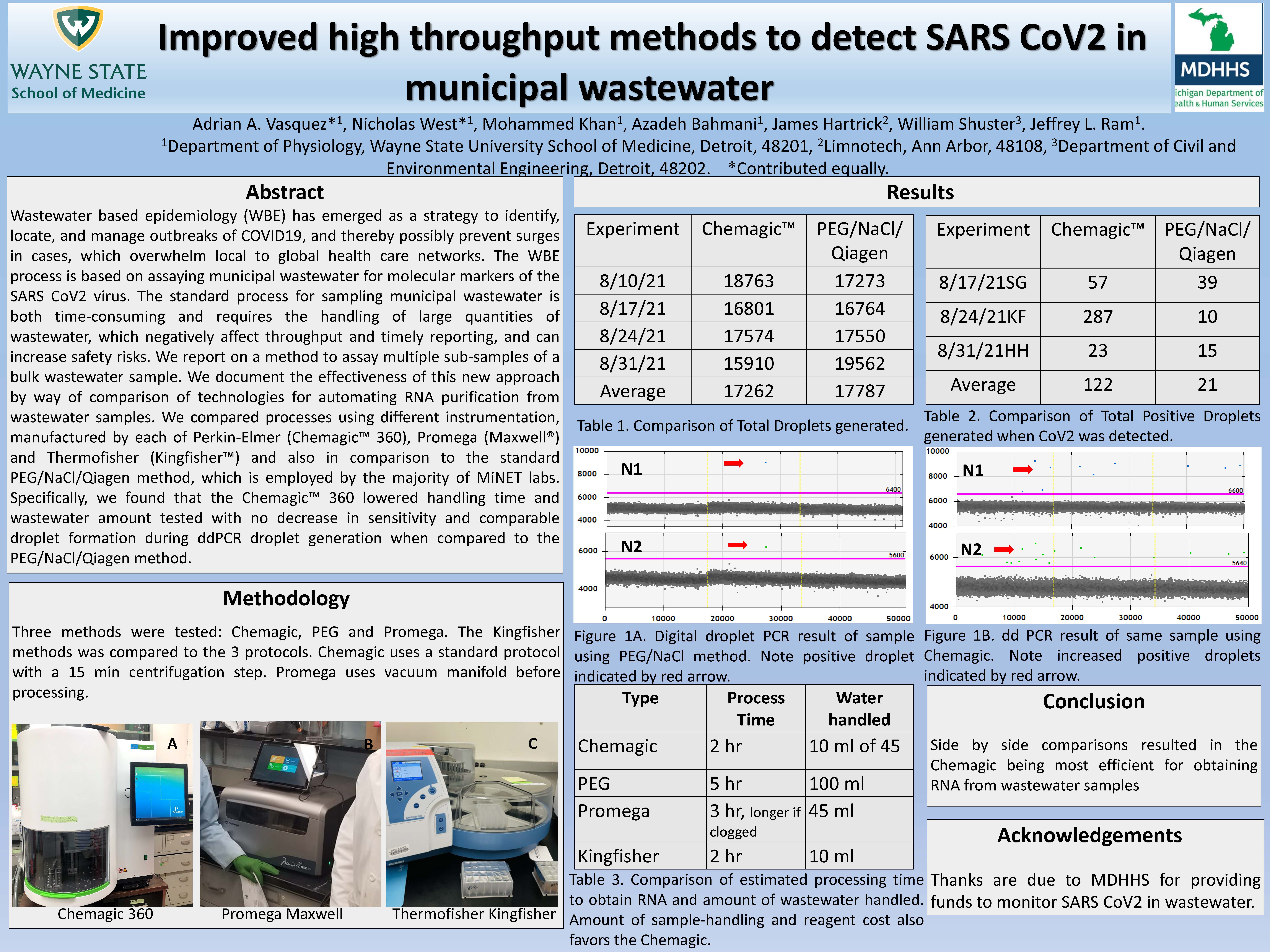 Improved high throughput methods to detect SARS CoV2 in municipal wastewater
By: Adrian A. Vasquez1 , Nicholas West1 , Mohammed Khan1 , Azadeh Bahmani1 , James Hartrick2 , William Shuster3 , Jeffrey L. Ram1 
1Department of Physiology, Wayne State University School of Medicine, 2Limnotech, Ann Arbor, 48108, 3Department of Civil and Environmental Engineering, Wayne State University, Detroit, MI